When:
February 28, 2017 @ 6:30 pm – 7:30 pm
2017-02-28T18:30:00-08:00
2017-02-28T19:30:00-08:00
Where:
Audre Lorde 2nd Floor
3543 18th St
San Francisco, CA 94110
USA

Contact:
Linda Carucci
510-482-6462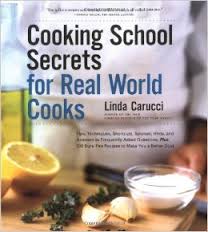 Join IndyCourses for an unforgettable evening workshop with award-winning culinary instructor, critically acclaimed cookbook author, and 30-year Bay Area hospitality industry veteran Linda Carucci. Your senses will surely be tempted as you taste, experiment, and learn in this fun-filled organoleptic session.
Starting with a comparative tasting of 3 commonly available salt's we'll explore and discuss the concepts of taste, flavor, and satisfaction. Then you'll be guided through a chefs taste-by-taste experiential journey as you season your own portion of a simple, unseasoned, vegetarian soup. You'll discover how a couple of every simple ingredients affect not only the overall flavor of a basic recipe, but also your sence of satiety, or satisfaction.
As an added bonus, following the program, Linda will allow time for Q&A about your most vexing culinary challenges. Are you still scalding milk Bechamel? (A vestige of pre-pasteurization days, its no longer necessary.) Wondering about that green tinge on your potatoes? (Its called solanine, and its toxic. Linda will explain how it's caused and how to prevent it.)
Copies of the recently released Cooking School Secrets for Real World Cooks, Second Edition by Linda Carucci will be available for sale and signing at the conclusion of the program. eBook vouchers will also be available for sale.