7th Annual Silent Auction to Benefit the San Francisco Coalition for Essential Small Schools
March 1, 2019 @ 6:30 pm

-

9:30 pm

$15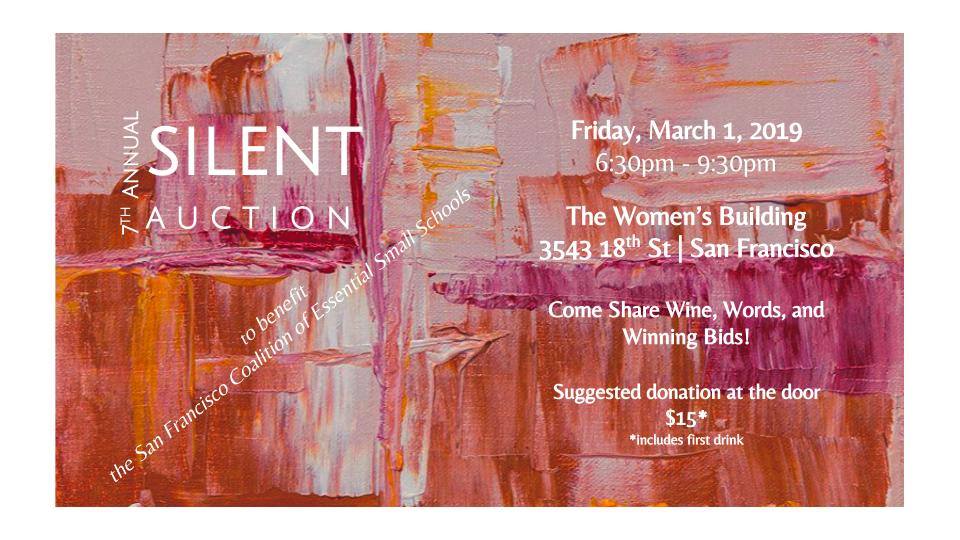 Come Share Wine, Words and Winning Bids! Suggested Donation at the door: $15 (includes first drink)
There will be wine, snacks and performances from local artists from the Bay Area education community. Proceeds from this auction will help us meet our mission, specifically supporting:
• Students – SF-CESS oversees three after school programs and trains student ambassadors to observe teachers and provide culturally relevant feedback. We also award $1,000 scholarships to deserving graduating seniors each year.
• Teachers – SF-CESS provides training and awards annual scholarships for teachers to attend equity-centered professional development focused on improving their practice and student results.
• Schools, Districts and Families – Beyond our contract work, SF-CESS provides copious pro-bono work to help schools, districts and families best support educational excellence and equity for its traditionally least-reached students.
• Community – SF-CESS hosts a minimum of two community-networking events (e.g., guest speakers, educational films, panel discussions, job fairs) each year focused on a current social issue or need. These events are free or offered at reduced cost to the larger community.